---
This smoke detector has a very loud alarm. It also is packed with a bright flashing strobe light designed to get your attention.

This smoke detector is portable and with a bright flashing strobe that flashes at 60 strobes per second to get your attention when the alarm goes off.

YOU CAN HEAR IT and SEE IT !!!!!!

This unit is portable with a 9 foot extension cord so it is easily moved around.

NOT HARD WIRED - PORTABLE

Plugs into any standard power outlet.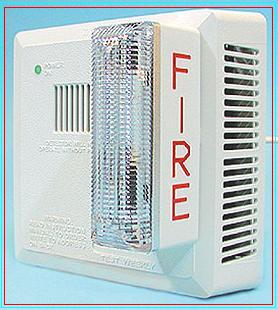 ADA Compliance:
The Americans With Disabilities Act Accessibility Guidelines (ADAAG) recommend any room or space required to have a visual signal shall be no more than 50 ft from the mounted signal. This portable solution will help hotels and small facilities follow the ADA guidelines.

Features:

9 ft power cord (no hardwiring is required)
9V battery backup included (audible alarm only)
Wall mount design with mounting hardware
90dB (at 10 ft) Horn - Pulsating audible 90dB horn (very loud)
177 candela strobe light (very bright strobe light)
Full function test switch
Visual LED monitor (condition indicator) that will pulse in normal standby mode and will remain solid in alarm mode.
Battery back-up and audible low battery chirp.
Flashing strobe light - flashes 60 times per minute.
Easy installation.
Not Permanently Installed.
ADA Compliant.

Specifications:
Warranty One Year Manufacturer's Warranty
Dimensions 5¼" L x 5¼" W x 4½" H

Professional Ratings:
Compliant with ADA regulations
UL listed
Compliant with ANSI 117.1